Vempati Ravi Shankar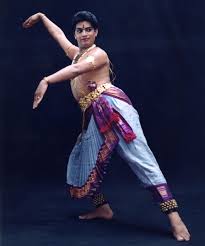 Vempati Ravi Shankar hailing from one of the most revered traditional families of Kuchipudi namely the 'Vempati' had the enviable responsibility of not only having to live up to the expectations of upholding the rich tradition but also earn the respect and reverence of the entire Kuchipudi fraternity. The exemplary dance journey of Vempati Ravi Shankar saw the emergence of a colossal Legend at a relatively very young age.
Ravi's dance journey was anything but easy and was fraught with spirit debilitating challenges physically, financially, emotionally, leading to a rapidly deteriorating quality of life. But that he not only withstood all the obstacles but bounced back to lead relatively normal life in the circumstances without succumbing to the easy option of self pity and desolation, speaks volumes of the spirit behind the legendary nature that Ravi was made up of.
Vempati Ravi Shankar was born to the Kuchipudi Legend Padmabhushan Dr. VempatiChinna Satyam and Swarajyalakshmi at Chennai on 11th October, 1969 among a family of five children (three daughters -Kameshwari, Katyananniand Balatirupurasundaritwo sons Vempati Venkat).
Having grown up in the environs of the Kuchipudi Art Academy, Chennai one would think that he would have all but naturally got initiated to dance directly by his illustrious father, but the most oft repeated story of how he was initiated to dance by one of the senior student of the Academy Smt Bala Kondala Rao who used to assist Vempati Master in conducting classes when he was on tours and how it took long time for Guru Vempati to realize the dancing flair of his youngest son makes an evergreen interesting reading. Once he was spotted by his father and taken to his fold the laurels and recognition came his way all but naturally. His first performance as said in his own words in an interview is an interesting read: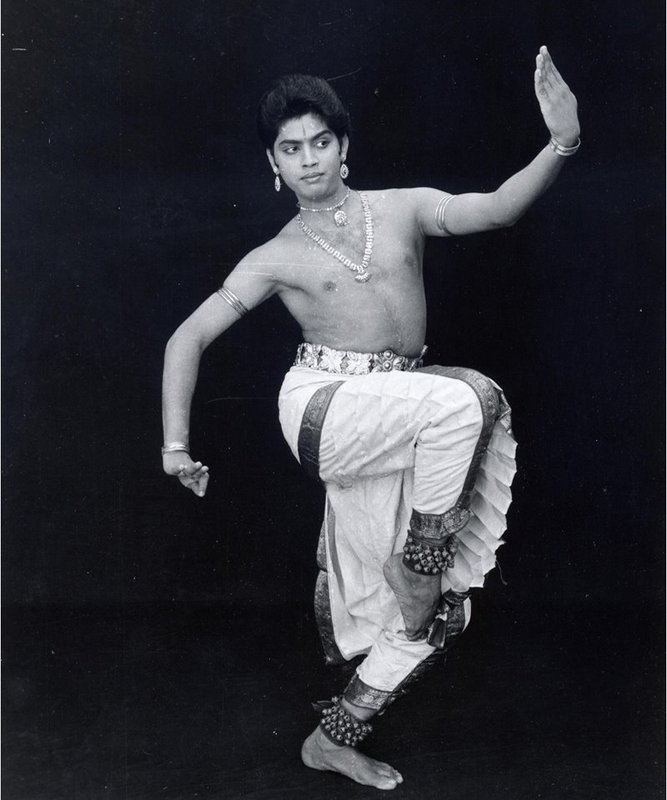 As my first dance program, I did SrinivasaKalyanam. I did the calf part. In that, I did the back side, not even the front. So, many of my relatives after seeing the program asked me, 'Hey, what did you do? I had to tell them that I did the backside of the calf. After that, slowly I started doing rishi characters. After that pramadaganas, then soliders, then the sukha yogi character. After that there were no other characters. Then I did Shiva's character and stabilized in that way. I am very lucky that way. I have become experienced in all of these years by doing different kind of characters. I understand the character's values. That's why, whenever I do anything it comes easily to me. That experience is very great. Some people think that they should do big characters first. But you won't get experience that way.
It is to be observed here that in the Academy Vempati Master used to give roles based on the strength of the artists and would offer the major roles only after one gets ready for it. Lead roles like Shiva which was being donned by senior students like Manju Bhargavi and Balaakka, it was offered to Ravi Shankar only after he was made ready for it and not because of being part of the family. After that there was no looking back and he was essential part of all the ballets of the Academy and travelled widely both pan India and abroad with the group.
Ravi performed leading male role of almost all of Vempati Chinna Satyams productions, including Shiva in Haravilasam and Ardhanareeswaram, Rama in Ramayanam, Dusyanta in AbhignyanaShakuntalam, and Arjuna in KirataArjuneeyam. Ravi's status as one of the most experienced disciple of Guru Vempati is undoubtedly attributable to his performance as Shiva in KsheeraSagaraMadhanam, Haravilasam and Ardhanareeswaram. The later dance drama is particularly significant because Guru Vempati composed keeping his son in mind to play the lead role of Shiva Ardhanareeswara. Ravi's skillfulness is evident in the penultimate item of the dance drama in which he dons the costume of Ardhanareeswara, and simultaneously represents the grace of Parvati and vigor of Shiva by nimbly shifting a black veil from one half of his body to the other.
Ravi has performed, as a soloist for the famous Khajuraho Festival, Konark festival, the dance festivals conducted by SangeetNatakAkademi, ICCR New Delhi and Chidambaram Natyanjali, Surya Festival in Kerala, SwathiTirunal Festival in Kerala, as well as festivals in New Delhi, Chennai, Mumbai, Ahmedabad, etc.
At the International level, he was part of the prestigious Avignon Festival, Euro Festival in France and Netherlands and he has performed many times in the Kennedy Centre, Washington DC. Ravi had performed exhaustively abroad in USA, Russia, Canada, European countries like Germany, Czech Republic, Hungary, France, Italy, Holland, Belgium, Switzerland, Sweden, Denmark, New Zealand and Gulf countries and earned glorious tributes.
With his first own dance piece choreographed at the age of 12, Ravi have many choreographies to his credit. He has composed over 80 solo items, 3 major dance dramas, (Nava Durga, Ramana Katha (the story of Sri RamanaMaharshi, and Sri LeelaGanapathy), and 3 thematic dance productions (Andhra Kala Vilasam ,VisweswaraVijayam, and BhavayamiRaghuramam). His production Ramana Katha,( which premiered in Bangalore, India in 2007) and Sri LeelaGanapathy (which premiered in Chennai at the Music Academy in 2009), were well received by artists and art connoisseurs alike.
The forte of Ravi Shankar is always referred for the fluidity of his movements. His body transitions so seamlessly from one movement to the next that the witnessing audience member is uncertain as to when one movement ends and the next begins.
One can feel in all his contribution to dance, his zeal and whole hearted effort with an ever existing inner thirst for a neat and perfect composition, choreography, involving indepth understanding and in the process it would look that he would travel back to that particular time zone and immersed himself in his choreography, characterization and portrayal of events and essence of the glorious culture and heritage of our country.
Vempati Ravi Shankar can be considered as the embodiment of grace, and therefore stands in a league of his own within the art form of Kuchipudi. More than that he is always referred as a complete artiste, for he is not only a choreographer, but also referred to as an accomplished writer, music composer and a great musician.
One of the few to establish the art form in its purest form, he had a major influence of his father's brother VempatiPedda Satyam. Each of his choreography had a uniqueness and variety to it. If he sees once that is enough he would learn it being an ekasanthagrahi a very creative artist and keen eye for the nuances of the art form. He had an uncanny capacity to teach in very quick time yet very detailed in approach enabling the other artists to grasp the choreography in a very short time so that they can perform almost instantaneously once he completes teaching. He had good grip of the subject and would enumerate the availability of nuances of all the classical art forms in Kuchipudi since Kuchipudi follows all the essential elements that is spelled out in various important dance texts.
Ravi was a complete artist. He was adept at dancing, could don any roles and perform with ease and natural grace and set the stage on fire every time he performed. His choreography skills was wonderfully magnificent and his love for music could be seen from the various compositions he has made and he was a very good lyricist too a born vaggeyakara so to say. Though his base in music was strengthened being disciple of the Music maestro, M Balamuralikrishna, he showed keen interest in music well before that and learned observing the musicians who worked with his father in the academy like Sangeetha Rao, LokanathaSarma, Prakash Rao and BhagavatulaSeetharamaSarma He was stickler for exhaustive practice to make one perfect and he is known for indepth knowledge of talas.
Awards
The quality of his work and sincerity in his approach earned him respect and reverence from all quarters. He was conferred the state title 'Kala Ratna' by the state of Andhra Pradesh, Natyakala Surya award in Chennai, the Siddhendra Puraskar from Kerala, and the best male dancer award in the Natyakala Conference from Krishna Gana Sabha Chennai, Vempati Pedda Satyam award from Kuchipudi.
Though his work definitely demands much more recognition, Ravi has never being one to go for awards and rewards. He took solace with his involvement in the art form in different dimensions all through his life
One can see that he came to the karma bhoomi for the sake of art and his handsome contribution to art form inspite of his failing health is an encouragement and example for and one all.
Comments
There are no comments on this entry.
Trackbacks
There are no trackbacks on this entry.